Home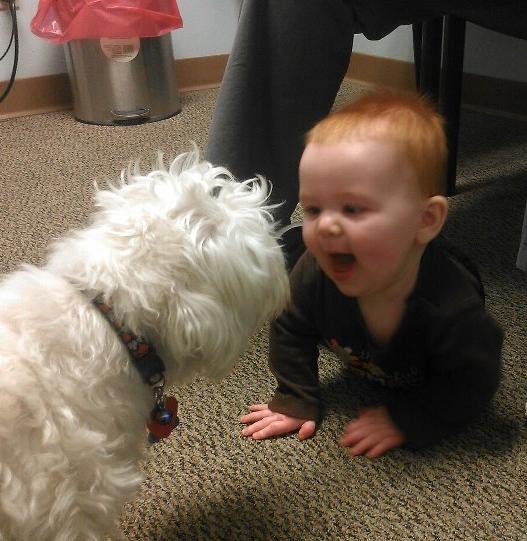 Sammy,
Guest Relations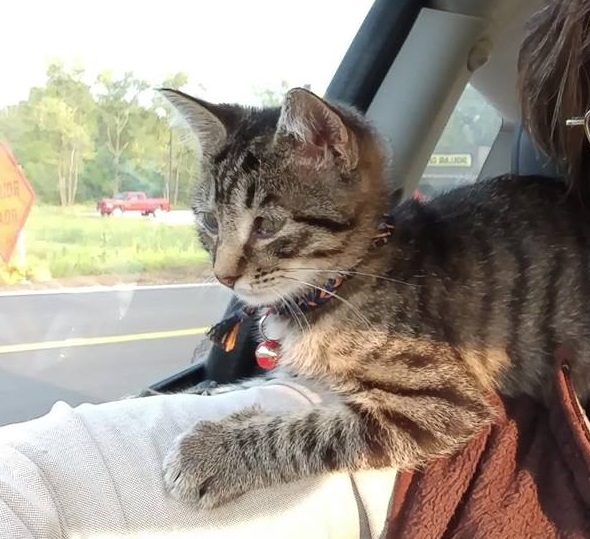 Charlie,
Staff Morale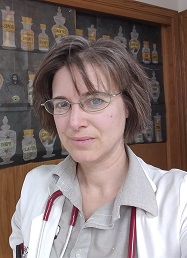 Lisa M. Kies, M.D.
I was born and raised in Cresco, Iowa, where my parents still live. While I was in college, I joined the Iowa Army National Guard as a Russian linguist. I continued to served in the National Guard when I went to medical school at the University of Iowa, eventually being deployed for a brief tour in Iraq in 2003. (I left the military in 2004 after 13 years of service.)
During my residency training in Mason City, I met and married my husband, Russ Echelbarger. After residency, I worked as a "fill-in" doctor in various clinics in the north Iowa area, while I waited for the perfect practice opportunity. And here it is!
I am interested in many aspects of medicine - pediatrics, sports medicine, palliative care, military medicine, ethics, spirituality, wellness and preventive care. I want to be a holistic practitioner, a true partner with my patients to improve all the facets that impact their health.
Education:
High School: Crestwood High School - 1990.
Undergraduate: Iowa State University - 1996, B.A./B.A./B.S. (Philosophy/Russian/Natural Science)
Medical School: University of Iowa College of Medicine - 2001.
Intership & Residency: Mercy Family Medicine Residency at Mercy Medical Center North Iowa - 2005.
---
Teresa Howe-Klesath, Office Manager
As a child I lived and grew up in Maple Grove, Minnesota until we moved to the small town of Nora Springs, Iowa in 1982. I attended Junior High and High School at Nora Springs-Rock Falls Community School where I graduated in 1987. I then went on to college and attended North Iowa Area Community College in Mason City, Iowa. I worked for an insurance and investment agency and then decided to look into the medical field. Shortly after, I started working at Mercy Medical Center-North Iowa where I had started as the Department Secretary for HealthWorks Occupational Health Services. Throughout the years, I expanded my training and knowledge and became Billing/Office Coordinator for the clinic. I had been with Mercy for 13 ½ years prior to joining Eagle Family Health. I was given the opportunity to work in my home town and loved the idea! I am enjoying the small "family like" staff and community. I am married and I have three grown children and four grandchildren.
Education:
High School: Nora Springs-Rock Falls High School, Nora Springs, Iowa – 1987.
College: North Iowa Area Community College, Mason City, Iowa – 1988.
---
Danielle Drees, Nursing Staff
Danielle is a native of north Iowa and currently lives in Mason City with her cats and her dogs. She enjoys canoing, kayaking, hunting and other outdoor activities.
Education:
High School: Newman Cathloic High School
College: NIACC

---
Tracy Hamand, Medical Assistant/Front Desk Reception
Tracy is a native of north Iowa and currently lives in Nora Springs and helps on the family farm. She helped rescue Sammy when she worked at the Humane Society of North Iowa.
Education:
---
Jonathan Krause, Billing/Coding Specialist
Jonathan grew up in Fort Dodge and currently lives in Nora Springs with his dog. He graduated high school in 2003 as salutatorian. He continued his education at ICCC and learned Spanish as a minor. He enjoys exploring new places when able, and constantly learning new information.
Education:
High School: Fort Dodge Senior High School
College: NIACC, Iowa Central Community College
---
Carmen Isaksen Tickal, Licensed Practical Nurse/Front Desk Reception
Carmen lives in Mason City and helps run the family business there (Oak Leaf Collectibles), in addition to filling in here as needed, and lots of local volunteer work.
Education:
High School: Webster City High School
College: NIACC, AA
College: Iowa Central College, Practical Nursing Program
---
Russ Echelbarger, IT
Russ grew up in Mason City after being born in Charles City the year after the tornado. In his day job, he is the Network Administrator for the City of Mason City.
Education:
High School: Mason City High School
College: NIACC, AA, Automotive
College: NIACC, AA, Information Technology
College: Kaplan University, BA
---
Samson "Sammy" Theodore Tyson Kies-Echelbarger, Guest Relations
Sammy spent the first part of his life at a "puppy mill" until someone bought him for $50. Unfortunately, his new owners were not prepared for dog who had minimal socialization, no house training, etc. Thankfully, they surrendered him to the North Iowa Humane Society (http://www.hsni.org/). Even there, Sammy had a hard time adjusting, but after weeks/months of love and care, he was ready to join the Eagle Family Health team on September 24th, 2012.
---
Charlie Kies-Echelbarger, Staff Morale
Charlie was born on Tracy's farm on June 20th, 2020. He was the runt of the litter and was doing very poorly, struggling to compete with his siblings for a spot at the dinner table. So he joined our team here at Eagle Family Health. He continues to have some special needs (so no treats, unfortunately), but is otherwise doing well. It's always a game to see who he's going to hang out with today.
---
Email: info@eaglefamilyhealth.com